Are You Ready For A New Era Of Music Technology? – Anticipating A New Era Of 5G.
Streaming is a truly revolutionary breakthrough, both in business and in society generally. In that light, it is worth taking a look at where it has taken us and where it will take us next from music to movies and television, then video games, and – further on the horizon towards virtual and augmented reality.
ADVERTISEMENT
The first streaming revolution began with music. For better or for worse, digital transformation came for the music industry first and enabled listeners to circumvent piracy laws almost immediately, although not completely.
We have all heard the news. 5G is here, and it's here to stay. But what do these networks have to offer the music industry, and how will they affect your experience as a musician, consumer, or industry worker? The truth is, 5G will shake things up in a major way this year. The new era brings innovation in both hardware and software, and a shining era of connectivity looms on the horizon
From cassette tapes to digital streaming, the world has come far in terms of music and technology but we are just getting started. Making its way around the world is the latest in network technology-5G. It's not only faster than our current cellular connection, it also enables a new kind of network that virtually connects everything and everyone.
What Is 5G?
From faster, quicker, better connectivity to a wide range of industry-redefining use, 5G sets apart from previous mobile generations. 5G has the potential to make loading websites, streaming music, and downloading up to 10 times faster than 4G.
How Will 5G Change The Music Industry?
5G networks offering massive increases in bandwidth and massive reductions in latency are beginning to roll out in the United States and around the world. 5G will transform the music industry by fostering an entirely new generation of internet of things (IoT) musical instruments and audio tools, connected to exciting new services like real-time jamming and collaboration over the internet, remote real-time recording, and online music and audio education.
ADVERTISEMENT
For the music industry, this means an array of improvements for varied aspects of the ecosystem from our day-to-day listening to grand-scale concerts. In a future of limitless possibilities but in a time of lockdowns, 5G technology is creating immersive ways to experience music, leading to creative innovations for both artists and fans. Here are 6 musical things to do with 5G!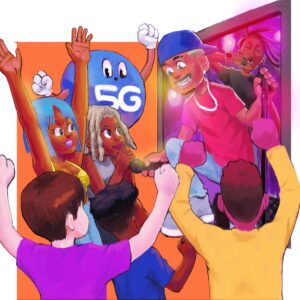 IoT Music Tools
The Internet of Things is our road to the next level of connectivity, linking the devices, processes, and environments that make our world go round.
ADVERTISEMENT
Along with high-quality streaming, we will see 5G networks cause an explosion with the Internet of Things. As of now, smart refrigerators and connected watches rule the world of IoT, but not for long. With the rise of 5G, musical instruments and audio tools will quickly become incorporated into the mix. We could be on the cusp of something huge here. Instruments, tools, and musicians will all be able to connect at high speeds with virtually zero latency. This means that remote access to virtualized instruments, amplifiers, and other equipment will become a reality.
The industry will be opened up immensely, as new talent from across the world will be able to access gear that they previously couldn't even dream of. This could help level the playing field for lesser-known bands and indie artists hoping to break into music, providing a valuable opportunity for individuals who are without the means necessary to purchase gear or in a location where gear is unavailable.
Virtual Concerts
In the last year, we've witnessed the cancellations of thousands of shows, concerts, and tours, all thanks to COVID-19. Even as we enter 2021, the live entertainment industry has yet to return in full swing. To keep the live music industry running, artists and the people behind all the glitz and glamour have gone online. Be it a short jam session on Instagram Live or a full-blown digital concert, we have all caught a few shows online and sung our hearts out in the comfort of our own homes.
As far as we can see, live streaming is increasingly becoming the norm and even more so in the advent of 5G technology. With faster speeds, we will easily make it through an entire concert (in all its high-definition goodness) without disconnecting. As you can see, 5G networks offer up a wealth of potential to the music industry. Consumers, bands, and those trying to break into the industry will all be affected by the usage of these networks, after all, inclusivity is what it's all about and 5G promises to deliver just that.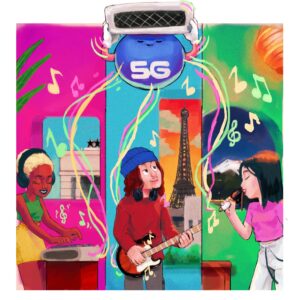 ADVERTISEMENT
Music Collaborations.
In the midst of quarantine and nationwide lockdowns, we have seen a handful of albums made entirely remotely, like Taylor Swift's folklore, Zild's Homework Machine, and The Itchyworms' Waiting For The End To Start. And while the musical end product has us all singing and dancing in our bedrooms, the process of creating an album remotely is a painstakingly meticulous activity from back-and-forth emails to huge files of sound recordings moving between people.
However, with 5G speeds and latency, music collaboration has never been easier. Artists and musicians will be able to collaborate and produce music in real-time, across geographical borders. 5G will transform not only how we connect, but also how we collaborate together, across countless borders. 5G is fast, reliable, and doesn't falter at any location. There is no need for pre-recordings because the collaborations can be done live in real-time.
5G technology enables musicians in different locations to play together in real-time and with harmony. The higher throughput connection and ultra-low latency, together with a superfast audio operating system (provided by Elk Audio), enables music collaborators to practice and perform with perfect synchronization, regardless of where they are in the world. Musicians can also gain access to virtual music production tools that can ease the process of recording, songwriting, and more.
Even as the world remains at a standstill due to the pandemic, technology will allow musicians to continue their work and create music. From high-quality streaming to concert experiences on the go, 5G technology is gradually transforming the music scene as we know it. As 5G becomes readily available all over the world, we can only expect great things ahead.
Enhanced Concert Experience.
Be it online or live, 5G opens a world of possibilities of what artists can do and what viewers can experience. In the last couple of months, we have seen a myriad of creatively executed online concerts. From music festival islands to a virtual disco party, the pandemic has pushed the industry to innovative and creative solutions. Now more than ever with the dawn of 5G technology.
ADVERTISEMENT
As 5G spreads across the nations, it will be used to create a valuable virtual experience unlike any other. We have seen the potential already with VR concerts, but so far, they haven't reached mainstream that could change with 5G, as the experience becomes smoother overall.
We may also see the widespread implementation of remote performances using human holograms, like the infamous Bucharest Vita de Vie concert at the Romexpo. This concert was the first of its kind, utilizing 5G networks so that remote players could perform alongside their live counterparts onstage. It worked swimmingly, but it wouldn't have been possible without the network to back it up.
Most recently, Smart (a wireless telecommunications company in the Philippines) gave a glimpse into the future of online music events with Acces5Granted, a 360 concert experience streamed via 5G.Smart. The groundbreaking concert featured performances of some of the Philippines top musical acts like UDD, She's Only Sixteen, Brigada, and more, against the virtual backdrop of the country's iconic landmarks.
These artists were able to seamlessly connect, interact, and collaborate across the country and provide an immersive and riveting experience for the audience. Concerts like Acces5Granted showcase the endless possibilities for music using 5G technology. Beyond the digital realm, 5G can also amplify our live concert experience, for when they do return. Whether it's using phone apps to add digital enhancements to an artist's live stage or easing the process of buying merchandise, 5G can change the way we experience live music for the better.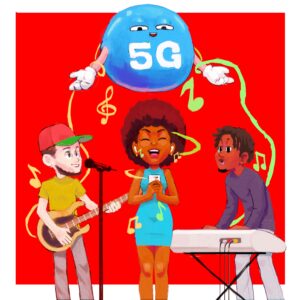 ADVERTISEMENT
Quality Connection.
In a time of social distancing and self-isolations, connection is so important. 5G technology streamlines the process of connecting people all across the globe with increased availability and more uniform user experiences. Never have we felt more connected to our favorite artists and musicians.
By now, everyone knows that 5G networks offer up faster download speeds and high-capacity streaming with lower latency for video and audio. In fact, 5G is potentially ten times faster than its 4G counterpart but what exactly does that mean for the music industry and its consumers?
ADVERTISEMENT
On a personal level, 5G will make your listening experience that much better. You'll have access to music material on demand, and you won't have those dreaded buffering issues clogging up your computer or phone. You'll be able to see better too, with lightning-fast videos at a higher quality than ever before, connecting you to industry news and events in a way that was previously impossible.
For the industry as a whole, it means collaborations and group projects between musicians could become even better. Imagine your favorite bands communicating across oceans in 5G-fast real-time? Live, long-distance collaborations might be hard to come by now, but 5G could change that.
Recently, we have seen many artists, from K-pop stars to local independent record labels, actively seek online platforms like Instagram, Twitch, YouTube, and TikTok, and even multiplayer games connecting with fans and their community.
Of course, music isn't the only industry that stands to gain a lot from 5G networks. Online video gaming and internet-based poker rooms may also see a rise in quality with 5G, as low-latency, high-capacity streaming allows for quicker connections and lightning-fast gaming. With better quality will come a rise in popularity, but 5G networks promise to be able to support higher traffic by equipping stations with a much higher user capacity.
ADVERTISEMENT
Enhanced Listening In HD.
Nothing is worse than a buffering song right in the middle of a bedroom dance party or a melancholic car ride. 5G unveils a world of potential that allows for an amplified streaming experience, for whatever situation you're in. Beyond smooth listening, 5G technology provides the best quality sound for your streaming pleasure. With higher bandwidths and storage capacities, artists won't have to compress files to fit online platforms and streaming services.
This not only eases the process of sharing music but also increases the quality of streaming your favorite tracks, comparable to physical formats. Essentially, think Michael Jackson in all his musical glory in your ears.
Therapeutic Playlist Experience…
You are just a click away from discovering a new wave of love, dancing, and good vibes, incorporated in the freshest afrobeat music genre across the African continent and beyond including its artists in a 20-row playlist, curated and updated monthly by The Music Pharmacy.
Available below with Audiomack, Apple, Spotify, and Boomplay.
ADVERTISEMENT
Streaming Links: https://li.sten.to/XEMnPNm
The Music Pharmacy uses the power of music to develop content, campaigns, and awesome experiences that serve marketing objectives that are entirely focused on entertaining, creative, innovative, educative, connective, and unmatched marketing communications.
In this regard we offer talents including artists and record labels, communities, media outlets, and brands consultancy services, given and interpreting modern technological data insights and analytics galvanized with strategic and tactical planning through to execution beyond music. Click here to have a full view of our services.